Top US commander in Afghanistan says main focus will be to develop capacity of Afghan forces
By Heidi Vogt, AP
Tuesday, December 1, 2009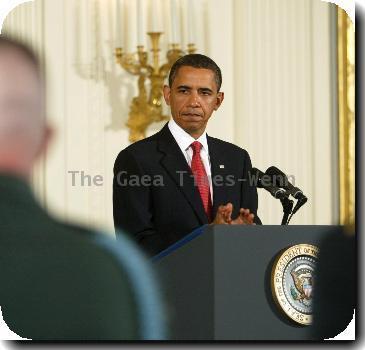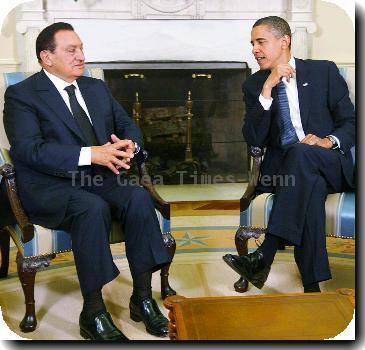 Top US commander: build Afghan forces
KABUL — The top U.S. commander in Afghanistan said early Wednesday that NATO and U.S. forces will hand over responsibility for securing Afghanistan to the nation's own security forces "as rapidly as conditions allow."
Gen. Stanley McChrystal, in a statement issued in Kabul just before President Barack Obama formally announced he was sending 30,000 more U.S. troops to the war, said his main focus will be to develop the capacity of the police and army in Afghanistan where the president said the security situation had deteriorated.
"We will work toward improved security for Afghanistan and the transfer of responsibility to Afghan security forces as rapidly as conditions allow," said McChrystal, who planned to fly around Afghanistan to visit U.S. and international forces.
"In the meantime, our Afghan partners need the support of coalition forces while we grow and develop the capacity of the Afghan army and police. That will be the main focus of our campaign in the months ahead."
In his speech at the U.S. Military Academy at West Point, N.Y., Obama said that while the U.S. and international community will continue to advise and assist Afghanistan, "It will be clear to the Afghan government — and more importantly, to the Afghan people — that they will ultimately be responsible for their own country."
The U.S. ambassador Afghanistan, retired Lt. Gen. Karl Eikenberry, said Obama's speech provides "clarity and focus to the U.S. mission in Afghanistan" and that he would "energetically implement this strategy" in cooperation with the Afghans and international partners.
Obama and McChrystal cautioned, however, that success in Afghanistan will be achieved only through efforts that match military and security force training with governance and economic development aid that can sustain long-term stability.
"The concerted commitment of the international community will prevail in bringing real change to Afghanistan — a secure and stable environment that allows for effective governance, improved economic opportunity and the freedom of every Afghan to choose how they live," McChrystal said.
Obama said that while Afghanistan has moved in reverse in recent years, there is no imminent threat of the Afghan government being overthrown.
Taliban insurgents have gained momentum, taking control of swaths of Afghanistan, and the al-Qaida terrorist network retains havens along the border with Pakistan. Increasing the capacity of Afghan security forces will allow international forces to start transferring out of Afghanistan in July 2011 — taking account of conditions on the ground, he said.
"We will continue to advise and assist Afghanistan's security forces to ensure that they can succeed over the long haul, but it will be clear to the Afghan government — and more importantly to the Afghan people — that they will ultimately be responsible for their own country."
While acknowledging Afghan President Hamid Karzai as the legitimately elected leader of the nation, he noted recent fraud in the recent presidential election. The government has been hampered by corruption and economic instability. Obama said Karzai's pledge to tackle corruption is a step forward.
Rachel Reid, Afghanistan researcher for Human Rights Watch, said Obama's new Afghanistan plan needed to strengthen civilian protection through ending the impunity and warlordism that have fueled insurgents.
"There is no magic number of U.S. troops that will bring security to Afghanistan," Reid said. "What matters is what the troops are there to do, and how they can enhance a long-term strategy to improve Afghans' human rights. If the U.S. wants Afghans to have a government they can believe in, there needs to be effective mechanisms for bringing human rights abusers to justice."
Lt. Gen. William B. Caldwell, the new head of a U.S.-NATO command responsible for training and developing Afghan soldiers and police, said Tuesday that although the groundwork is being laid to expand the Afghan National Army beyond the current target of 134,000 troops by Oct. 31, 2010, no fixed higher target has been set. There is a national goal of eventually fielding 240,000 soldiers and 160,000 police, but Caldwell said that could change.
"Although that is a goal and where we think it could eventually go to, it's not a hard, firm, fixed number," he said in a telephone interview with The Associated Press.
For now, Caldwell's orders are to reach the targets of 134,000 soldiers and 96,800 police by next October.
Gen. Sher Mohammad Karimi, operational commander of Afghanistan's defense ministry, said a 134,000-member Afghan National Army is shy of what is needed.
"The 134,000 army, which has been approved so far — it is not enough for our country," he said. "We have requested to increase that number to at least 240,000."
He said even during the 1970s, during the reign of King Mohammad Zahir, the ranks of the Afghan army didn't fall below 200,000 — and the target was for 250,000 troops. "Then, everywhere was peace. There was no fighting," he said. "Today, with Taliban militants and international terrorists, we even need more troops than during the king's time."
Associated Press Writers Deb Riechmann and Rafim Faiez in Kabul and Robert Burns in Washington contributed to this report.
Filed under:
Economy
,
Government
Tags:
Afghanistan
,
As-afghanistan
,
Asia
,
Barack Obama
,
Central Asia
,
Kabul
,
North America
,
Obama
,
United States
,
West point