Just as his nephew did before him in NYC, Khalid Sheik Mohammed claims terrorism equals war
By Larry Neumeister, AP
Tuesday, November 24, 2009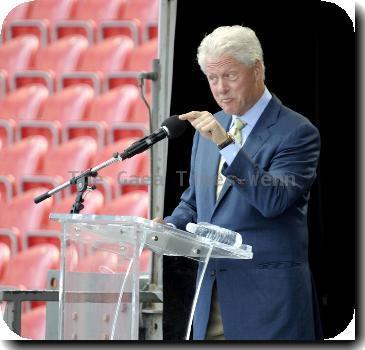 more images
Uncle follows nephew to NYC court for terror trial
NEW YORK — Khalid Sheik Mohammed has acknowledged doing what his nephew Ramzi Yousef couldn't: toppling the World Trade Center towers.
He will soon be given a chance to repeat another of his nephew's endeavors: using a Manhattan federal courtroom as a pulpit to argue that he is a political prisoner in a war between the West and Islam.
Yousef was convicted of trying to destroy the World Trade Center in 1993 with a powerful bomb packed into a rental van. Mohammed is accused of fulfilling their shared dream in 2001, this time with hijacked airliners.
If Mohammed does follow the legal path set by Yousef, he may get his message out, but he would almost certainly seal his conviction with his own words, and could push jurors toward imposing the death penalty for his apocalyptic vision of violence.
"Yes, I am a terrorist and am proud of it," Yousef defiantly proclaimed at his 1998 sentencing at the same lower Manhattan federal court complex where his uncle is scheduled to appear in a matter of weeks or months.
Vincent M. Cannistraro, a former Central Intelligence Agency counterterrorism chief, said a trial of Mohammed in Manhattan "gives him an opportunity for political theater."
Mohammed spent several years in secret prisons run by the CIA before he was transferred to the detention center at Guantanamo in September 2006, and Cannistraro predicted Mohammed will "underline mistakes on the American part, particularly the harsh interrogation described as waterboarding."
Mohammed and his nephew Yousef are close in age; Ramzi is 41 and Mohammed is believed to be a few years older. They do not look much alike — in his mug shot, Mohammed is doughy, disheveled and appears half asleep, while Yousef stands upright, his severe eyebrows framing his gaunt face.
Yousef also has a large hook nose so unusual that a flight attendant testified that it helped her remember that it was he who placed a bomb beneath a plane's seat in 1994 that exploded on a subsequent flight, killing one man.
But investigators say their attention to detail in planning their attacks, their self righteousness and their explanations for how they justify the killing of innocent people seem to flow from the same destructive plan. Both have made statements portraying themselves as combatants in wars against the West that they say justify wide-scale deaths.
Yousef fled the United States on a plane hours after a Feb. 26, 1993, explosion in a garage beneath the twin towers killed six people, injured more than 1,000 others and left behind a crater half the size of a football field.
Within days, investigators located pieces of the van with the vehicle's serial number and discovered that Yousef and several other Muslims had arranged with little funding to build the bomb in Jersey City, N.J., in the months before the attack.
Yousef was captured in Pakistan in early 1995 and brought to the United States. He was convicted in federal court in Manhattan of the trade center bombing and in a 1995 plot to blow up 12 U.S. airliners over the Far East. His uncle was also indicted in the airliner plot, although at the time he was an obscure figure.
Yousef represented himself with coaching from an adviser-lawyer, but waited until his 1998 sentencing to fully express his views.
Mohammed's plot to destroy the World Trade Center was created over a three-year period before the 2001 attacks, according to papers filed by investigators with the military commission at Guantanamo Bay.
After his March 2003 capture in Pakistan, Mohammed described himself as the architect of numerous terrorism plots and even claimed that "with my blessed right hand," he had decapitated Wall Street Journal reporter Daniel Pearl.
At a 2007 tribunal hearing in Guantanamo, a summary of evidence read into the record against Mohammed said he directed the Sept. 11 attacks. It said a hard drive seized during his arrest contained photographs of the 19 hijackers, three letters from Osama bin Laden and information about some of the hijackers, including a transcript of a chat session, among other things.
The summary also said evidence showed Mohammed wrote a document about the 1995 airline bomb plot that was later found on Yousef's computer.
Mohammed, at his tribunal hearing, conceded in a written statement that he swore allegiance to bin Laden, that he was on al-Qaida's council and that he served as operational director for bin Laden for the organizing, planning, follow-up and execution of the Sept. 11 plot "from A to Z."
According to the statement, he was also directly in charge of producing biological weapons and dirty bomb operations on American soil.
He said he was responsible for the 1993 trade center bombing, the shoe bomber attempt to down two U.S. commercial planes, the bombing of a nightclub in Indonesia, and the planning and financing of a second wave of attacks after the 2001 attacks aimed at the Library Tower in California, the Sears Tower in Chicago, Plaza Bank in Washington state and the Empire State Building in Manhattan, according to the statement.
He also claimed credit for a slew of other planned attacks, including assassination attempts against President Bill Clinton in 1994 or 1995 and an assassination plot against Pope John Paul II at about the same time, the statement said.
As the statement was bring read aloud at the Guantanamo hearing, Mohammed interrupted after the announcement of the Pope plot to say: "I was not responsible, but share."
After the statement was completed, Mohammed spoke aloud, saying through an interpreter: "What I wrote here is not I'm making myself hero."
He called violent attacks that kill people "the language of any war" and compared himself to George Washington, saying Great Britain would have treated Washington as an enemy combatant.
Just as Yousef once claimed that his right to kill people was comparable to the U.S. decision to drop a nuclear bomb on Japan in World War II, Mohammed too claimed he was doing just as the U.S. would do.
"Same language you use, I use," he said at the tribunal hearing.
Barrett reported from Washington.