Best Buy For Black Friday 2010 Ads On Internet
By Reema, Gaea News Network
Sunday, November 21, 2010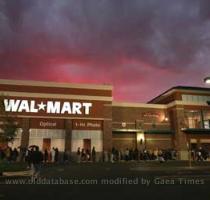 more images
SAN FRANCISCO (GaeaTimes.com)- The U.S. citizens are all set to make the best use of the Black Friday 2010 deals, which will b on offer by almost all the retail stores all over the country. The deal would get all more exciting as it is starting from November 26, which corresponds to the Thanksgiving. These retail stores are offering some of the best buys, through their rigorous ads. The focus of the ads is also on Internet apart from television and radio.
Instead of going by the typical commercial ads, Black Friday 2010 ads focus more on the discounts. Certain websites are constantly updating the new deals and discounts to offer the best buy for the customers. Recently, the National Retail Federation conducted a research in order to find out the use of internet by the leading retailers. According to this survey, 21 percent of the retailers are using Twitter to promote their offer, 31 percent of them are resorting on their own personal websites, while a whopping 39 percent are using Facebook. NRF CEO Matthew Shay said that the rules and the entire face of Black Friday has changed significantly. They are now more keen on promoting their deals through the Internet from much before rather than wait for the D-Day.
The survey has also come to the conclusion that the maximum sale would be between November 26 till November 28. These customers, who are opting for the best buy for Black Friday 2010 may add up to 138 million. Most of them are influenced by the rigorous ads through the web. 60 million people out of the lot said that would surely visit the retail shops during the weekend, while 78 million would wait to find out which would be the best buy. Most of the customers are craving to guy the gadgets.