UN climate science chief says he sees room for more US action to reduce emissions
By Charles J. Hanley, AP
Sunday, December 6, 2009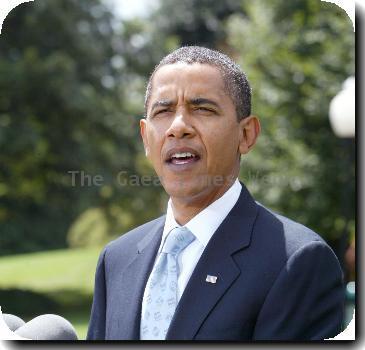 more images
UN climate science head hopes for more US action
COPENHAGEN — By executive action, the Obama administration can boost the U.S. target for reducing greenhouse gas emissions beyond levels envisioned in legislation working its way through Congress, the head of the U.N. climate science network said Sunday.
"There is scope for going above what is going to be legislated," Rajendra Pachauri, chairman of the Intergovernmental Panel on Climate Change, told The Associated Press on the eve of the U.N. climate conference in Copenhagen.
Senate and House bills capping carbon dioxide emissions would reduce them by 17 to 20 percent by 2020, compared with 2005 levels. Compared with 1990 levels, the standard U.N. benchmark, that's only a 3-4 percent reduction, experts calculate, a contribution far short of what scientists say is needed among industrial countries to avoid dangerous climate change.
Environmentalists have long urged the U.S. Environmental Protection Agency (EPA) to act on its own, without Congress, to rein in carbon dioxide, the most important greenhouse gas blamed for global warming.
Two years ago, the U.S. Supreme Court held that greenhouse gases were pollutants under the Clean Air Act, enabling the EPA to take action, but the administration of President George W. Bush opposed using the act to address climate change.
Last April, under President Barack Obama, the EPA said for the first time it was ready to use the Clean Air Act to curtail release of carbon dioxide from the burning of fossil fuels, and other climate-changing pollution. It did so by declaring that CO2 and five other greenhouse gases are a major hazard to Americans' health. In October, it proposed rules to require emissions reductions by power plants, factories and refineries.
Any further U.S. steps to finalize the EPA action could be a major boost to reaching broad agreement here on emissions cuts.
In the interview on the outskirts of Copenhagen, Pachauri told AP that U.S. executive action would also be taken to improve the energy efficiency of buildings and to provide incentives to invest in clean-energy public transport.
"I think this is a beginning and we can still go several miles beyond this," he said, but "I think the first challenge for the United States is to get this legislation through the Senate."
Pachauri said he hopes other nations, too, will raise their emission-reduction pledges.
"I also believe that Copenhagen will not be the final word," Pachauri said.
The EPA administrator, Lisa Jackson, speaks at the 192-nation Copenhagen gathering on Wednesday, a week before Obama and about 100 other national leaders converge on the Danish capital to lend top-level backing to the talks.
Filed under:
Finance
,
Government
Tags:
Air Pollution
,
Air Quality
,
Atmospheric Science
,
Barack Obama
,
Climate
,
Copenhagen
,
Denmark
,
Earth Science
,
Environmental Concerns
,
Environmental Laws And Regulations
,
Europe
,
Government Regulations
,
Industry Regulation
,
North America
,
United States
,
Western Europe