Sean O'Keefe Survives Alaska Plane Crash
By Reema, Gaea News Network
Wednesday, August 11, 2010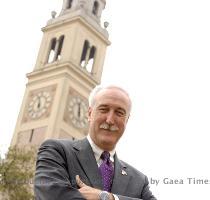 more images
DILLINGHAM (GaeaTimes.com)- Among the four lucky passengers, who have survived the Alaska Plane crash on Monday night, are former head of NASA Sean O'Keefe and his teenage son Kevin O'Keefe. The rescue team early on Tuesday reached the site of the accident and found Sean O'Keefe and his son along two other passengers alive. Reports claim that, Sean O'Keefe who is now the chief executive officer of the defense contractor EADS North America has suffered broken bones and minor bodily injuries. Although as of yet no public statement has been released by the family, some media reports mentioned that Sean O'Keefe was in a critical condition on Tuesday night.
The news of the survival of Sean O'Keefe was confirmed to media sources by EADS Chairman Ralph D. Crosby Jr in a statement on Tuesday afternoon. The statement mentioned that the organization has come to know to its relief that the Sean O'Keefe and his son have survived the crash in Alaska. Ralph D. Crosby added that the company is now looking forward to the speedy recovery and return of its chief executive officer.
The fatal plane crash occurred on Monday night at around 7 p.m. at a mountainous section of southwestern Alaska that lies 300 miles from Anchorage. Although the exact reason of the crash is being investigated by the federal investigators, experts have voiced that the plane might have become the victim of sudden rain and storm. The federal investigators have mentioned on Tuesday that the plane had dived into the mountain with such a force that it has left a 300-foot mark on the slope. The accident has claimed that life of former U.S. Senator Ted Stevens who was a close friend of Sean O'Keefe.