House Speaker Pelosi 'exhilarated' by prospects Congress is ready to pass health care bill
By Jennifer Loven, AP
Friday, March 12, 2010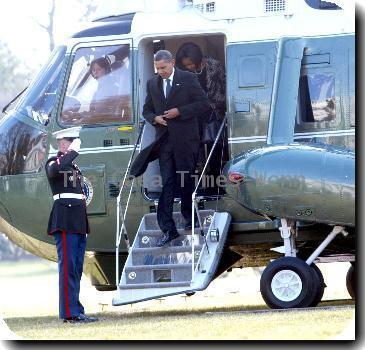 Pelosi: Hill closing in on health care overhaul
WASHINGTON — House Speaker Nancy Pelosi is voicing fresh confidence there are enough votes to pass sweeping health care legislation, saying lawmakers are "one day closer" to a historic achievement.
Summing up intense work to get the measure through Congress, Pelosi told reporters on Capitol Hill she felt "very exhilarated" by the tone of conversation in a caucus of Democrats Friday morning. She said, "We stand ready to stay as long as necessary" to finish the bill, which has been heavily debated for well over an hour.
The California Democrat also said she was pleased that President Barack Obama had put off a scheduled trip to Asia to help see the bill through. Pelosi also predicted that "it won't be very long and we'll be making a real difference in the life of the American people."
THIS IS A BREAKING NEWS UPDATE. Check back soon for further information. AP's earlier story is below.
WASHINGTON (AP) — President Barack Obama put off the start of a scheduled Asian trip on Friday as the White House and senior Democrats reached for agreement on long-stalled health care legislation they hope to push through Congress within days.
At the same time, the White House announced Obama would travel to Ohio on Monday — the third in a string of campaign-style appearances since he vowed several days ago to do everything in his power to assure enactment of his top domestic priority.
Congressional officials reported progress on their plan to rescue the legislation, which is designed to extend health care to millions who lack it, while banning insurance company practices such as denial of benefits on the basis of pre-existing conditions.
It appeared a second administration priority, far-reaching changes in the student loan industry, would be added to the legislation. The measure would have the government originate assistance to needy college students, ending a system that has allowed banks and other private lenders to do so at a fee.
The change is estimated to save tens of billions of dollars over a decade, money that would be plowed back into higher Pell Grants and other student aid.
At the White House, a senior administration official said Obama's scheduled trip to Indonesia, Guam and Australia will be pushed back from March 18 to March 21 and the president will return on March 26, instead of March 24. The official divulged this information on the grounds of anonymity because Obama's change in travel plans had not yet been formally announced.
Press secretary Robert Gibbs had insisted earlier that Congress act by March 18 — Obama's original departure date. But the White House seems to have back off that as Democratic leaders scurried to round up votes.
The health care bill appeared on the cusp of passage in early January, but was derailed when Senate Republicans gained the strength needed to sustain a filibuster and prevent final approval.
In the weeks since, leaders have come up with a two-part rescue strategy. It calls for the House to pass legislation that cleared the Senate in December, despite numerous objections, and for both houses to follow immediately with a second bill that makes changes to the first.
The second, fix-it bill would be drafted under rules that prevent Republicans from demanding Democrats produce a 60-vote super-majority, a threshold now beyond their reach.
House Democrats met privately during the day to review elements of the still-emerging fix-it bill, but few details were immediately available.
In general, though, it would provide additional assistance to lower-income families who are unable to afford insurance, help states that already provide above-average benefits under Medicaid, the state-federal health care program for the poor, as well as gradually close a gap in coverage under the Medicare prescription drug program.
"We made a lot of decisions. We're getting toward the end," White House Chief of Staff Rahm Emanuel told reporters as he left the office of Senate Majority Leader Harry Reid, D-Nev. Reid received disturbing news during the day that his wife and daughter were rear-ended in a serious traffic accident.
Reid's 69-year-old wife was hospitalized in serious condition with a broken neck and back, officials said.
Even with initial votes possible next week, few were claiming that Democrats had the votes in hand to prevail — especially in the House, where the roll call is expected to be a cliffhanger. House Speaker Nancy Pelosi, D-Calif., conceded that even once details of the package are complete, leaders will need time to sell it to lawmakers.
"We will have at least one week to have our conversation," Pelosi said. It could take longer, she added, "but it's not something we want to drag out."
The seemingly endless string of meetings and negotiations is aimed at finally wrapping up Obama's top-tier domestic goal of revamping the way many Americans get health care and how they pay for it. The legislation would restrict how insurance companies dole out coverage to customers, require most people to carry policies and extend coverage to 30 million uninsured Americans, financed by slowing the growth of Medicare and raising some taxes.
Associated Press writers Erica Werner, Charles Babington, Ricardo Alonso-Zaldivar, Laurie Kellman and Ann Sanner contributed to this report.
Filed under:
Finance
,
Financial Services
,
Government
,
Industries
Tags:
Barack Obama
,
District Of Columbia
,
Government Programs
,
Government Regulations
,
Government-funded Health Insurance
,
Health Care Reform
,
Industry Regulation
,
North America
,
Political Issues
,
United States
,
Washington