Prime Minister Vladimir Putin in France seeking greater French investment in Russian economy
By Deborah Seward, AP
Friday, November 27, 2009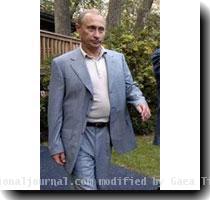 more images
Putin in France for economic talks
RAMBOUILLET, France — Russian Prime Minister Vladimir Putin held talks with French officials Friday on expanding cooperation in the energy, automotive, transportation and pharmaceutical sectors.
Russia is seeking French investment to help modernize its economy, but Putin's two-day trip was overshadowed by the possibility that France is considering the lucrative sale of a military amphibious assault vessel — a prospect that has made some of Russia's neighbors nervous.
Officials gave no indication of whether the Mistral, which can carry 16 attack helicopters, was discussed during Putin's talks with his French counterpart, Francois Fillon.
Such a ship would allow Russia to land thousands of troops quickly on foreign soil. The possibility has alarmed Georgia as well as the three Baltic NATO countries — Latvia, Lithuania and Estonia. All four former Soviet republics now have tense ties with Moscow.
Putin had breakfast Friday with former French President Jacques Chirac, but he was not scheduled to meet with President Nicolas Sarkozy, who was in Brazil, or with the French defense minister or foreign minister.
Instead, he and Fillon were expected to sign a series of financial cooperation agreements during their talks Friday at the Chateau de Rambouillet, once a royal and now a presidential residence west of Paris.
The agreements will contribute to the "diversification of our commercial exchanges and the implementation of our common objectives in terms of energy efficiency," Foreign Ministry spokesman Bernard Valero said Thursday.
Specifically, the two prime ministers will talk about the extent to which French carmaker Renault is willing to further help Russia's struggling automobile manufacturer, Avtovaz — in which the French firm has a 25 percent stake.
They will also discuss France's possible participation in Russian pipeline projects. For six months France's GDF Suez has been in talks with Russian natural gas giant Gazprom on taking a stake in the NordStream pipeline, while last month Electricite de France SA said it was negotiating with Gazprom on possibly taking a minority stake in the planned South Stream pipeline.
Putin and Fillon also will discuss global warming ahead of next month's U.N. climate change conference in Copenhagen. Valero said France was expecting Russia to make an effort to reduce its emission of greenhouse gases and to help facilitate an agreement at Copenhagen.
Putin, who arrived in France late Thursday, was traveling with several key Russian ministers and a large delegation of business executives.