Bank Of America Online Banking Now Restored
By Arnab Ghosh, Gaea News Network
Saturday, August 28, 2010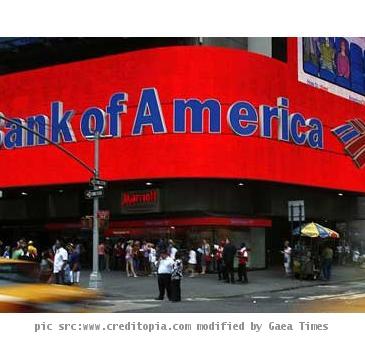 more images
NORTH CAROLINA (GaeaTimes.com)- One of the leading banks of the USA, Bank Of America faced the flak from the customers in various states as its online banking service became inaccessible yesterday for some time. As one can understand a lot of users across the USA have accounts in this bank and a majority of them depend on the online service for making transaction owing to their busy schedule. Therefore, when they found the online service was down it was a total mayhem for them. The online banking service was down for nearly three to four hours in most states of the USA yesterday. Tara Burke a BOA representative admitted the technical glitch that made its online banking service stalled but did not specify the cause. The outage was caused by a temporary system failure, the bank said.
The Charlotte, North Carolina based bank later said in a statement that the service was restored by the afternoon. However, the ATMs of Bank Of America were not affected by the snag and the customers could access them. The service was restored but for some time the users had to put up with sluggish pace. The Bank of America spokespersons put up a comment on Twitter so that the users do not get panicked. The customers tried reaching the helpline of the bank as they were greeted with the outage. However, the helpline of the ban was hard to reach at that time.
The Bank Of America spokespersons apologized to the customers for the trouble caused to them. The latest report says that the Online Banking snag is resolved and the site is working now.