iPad Leads Tablet Sales Market To Grow by 400% by 2012
By Shaon, Gaea News Network
Wednesday, December 15, 2010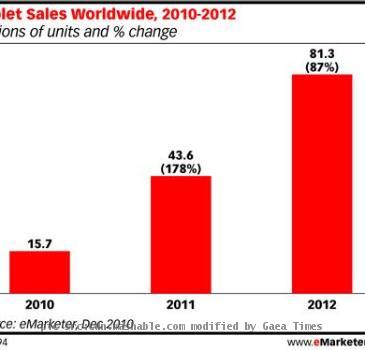 more images
The tablet market is in a definite boom, and we have got Apple iPad to thank for it. A report from eMarketeer states that the burgeoning market will grow by another 400% by the year of 2012.
According to the estimate more than 81.3 million tablets are going to be sold by the year of 2012, a pretty bold estimate on any account considering the fact that in the year of 2010 only 15.7 units have been sold. The entire credit for this more than optimistic assumption is considered to be driven by the iPad. The estimated market share of the tablet market is currently being held by iPad.
However the report does not fail to mention that the domination of the market is set to take a plunge in the coming 24 months. Even then it will continue to lead the division. It is suggested that in 2012 iPad could be holding about 69% of the market a figure that is not negligible by any stretch of imagination. It is also reported that the US will have 50% of the tablet sales by 2012 down from the current 62 %. We certainly believe that the iPad is here to stay since rumors of a much desired price drop and a new iteration has been doing the rounds.