Tata Docomo 3G Launched In 9 Circles
By Arnab Ghosh, Gaea News Network
Saturday, November 6, 2010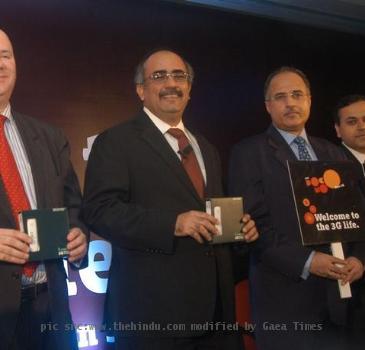 more images
MUMBAI, INDIA (GaeaTimes.com)- This Diwali the GSM wing of Tata Teleservices namely Tata Docomo presented the users the gift of 3G services. It became the first GSM operator in India to launch 3G service spectrum and now the users in 9 circles can enjoy the boon of 3G mobile telephony. Anil Sardana the MD of Tata Teleservices said that the3G services will cover states like Maharashtra, Rajasthan, Karnataka, Punjab, Haryana, Gujarat, UP etc. The company has got license for rolling out 3G service in the 9 sectors. The company said in a statement "Powered with cutting-edge technology support from its partner NTT DOCOMO of Japan, Tata DOCOMO's 3G services will change the way consumers use their mobile phones, riding on the back of game-changing products, applications and services".
As of now the Tata Docomo 3G network will support download of 1MB data for 5 seconds. In regular 2G service the same amount of data takes more than a minute to get downloaded. With high bandwidth call drops will also become non existent. The 3G network will also make video calling a possibility. The icing on the cake is that the company,the result of a union of Japan's NTT Docomo and Tata Teleservices, is offering one week free service to the users. While the existing users will get SIM card up gradation the new users will have to buy 3G SIM cards.
The detailed pricing plan of the 3G service of Tata Docomo will be released by November 11. However, the MD of the company brushed aside the speculation that the 3G tariff will be expensive. He said that Tata Docomo introduced really cheap tariffs in 2G service and the 3G service will also follow the trend.