AIG Employees To Wear Their Company Logo Again
By Shaon, Gaea News Network
Friday, December 10, 2010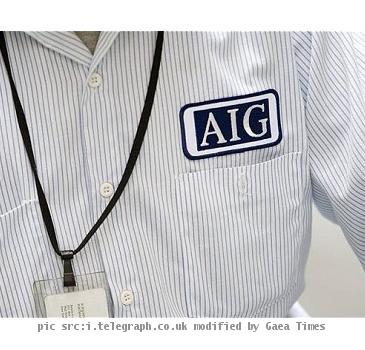 more images
NEW YORK (GaeaTimes.com) — Fresh off from the news of a corporation like S&P filing for Bankruptcy now we are off to some brighter news. American International Groups INC the insurer that had to bailed out by the Government is in the process of restructuring and re organization. The employees now will be sporting the Company's logo yet again.
The AIG employees had a really tough time during the re structuring process. They had to face the wrath of the public who were clearly miffed about the show the Company managed to put up. The fact that they were receiving Taxpayer funded bailout package that spiraled past the 182 billion dollar mark did not help either. In the face of this public out rage AIG had to make drastic re design efforts on the employee identification badge. It was more or less was impossible to note at that time the working place of the badge carrying employees. The paranoia induce measures went further than that. Their offices installed X-Ray scanners for a heightened security process.
As a symbolic gesture the design of the newer ids are going to be reverted. We reported earlier that the Treasury was selling 92 % of its stake in the concern. According to Reuters fift of the shares could be sold off by Spring 2011.