House Republican leader added BP stock while others sold before Gulf oil spill
By Jim Abrams, AP
Wednesday, June 16, 2010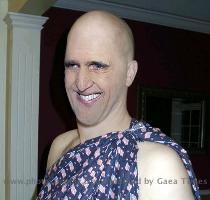 more images
Boehner added BP stock, others dropped oil company
WASHINGTON — House Republican leader John Boehner bought BP and other oil company stock last year while other lawmakers were a little more fortunate, getting rid of BP stock before the oil spill caused the environmental disaster in the Gulf.
Annual financial disclosure reports released Wednesday revealed that Boehner last December sold a retirement plan in the company he once ran in Ohio, taking in between $1,000,001 and $5 million. The next day he purchased dozens of blue chip stocks, including stocks in BP, Exxon, Chevron, ConocoPhilips and Occidental each valued between $15,001 and $50,000.
The Center for Public Integrity said some 20 members of Congress disclosed owning at least $1,001 worth of shares in BP or Transocean Ltd., in their 2008 financial forms filed a year ago.
Another BP stockholder is Senate Foreign Relations Committee Chairman John Kerry, who owns stock valued at between $1,001 and $15,000. Kerry, D-Mass., last year sold shares in Transocean, the company that owned the BP rig that continues to spew oil into the Gulf.
Kerry's office said the senator has no control over inherited holdings in family trusts and his stock holdings "clearly have no impact on his fight for a green economy and a clean environment."
Sen. Tom Harkin, D-Iowa, who heads the Health committee, reported owning BP stock valued between $1,001 and $15,000.
Among those no longer listed as BP shareholders is Rep. Carolyn Maloney, D-N.Y., Maloney last year reported holdings in the $15,001-$50,000 range, but her office said those holdings no longer appear on her disclosure form because they were part of investments of her husband, who died last year.
Shares of BP PLC had dipped near a 14-year low Wednesday morning, trading at around $30.
Regardless of the disaster in the Gulf and turbulence in the stock market, most congressional leaders enjoyed nice nest eggs for their post-political days.
House Speaker Nancy Pelosi, D-Calif., estimated the value of a house and vineyard in St. Helena, Calif., at between $5 million and $25 million. She owns it together with her wealthy real estate-magnate husband, Paul.
Senate Majority Leader Harry Reid could return to Searchlight, Nev., site of some of his many mining claims he valued at well over $1 million.
Senate Republican Leader Mitch McConnell of Kentucky can fall back on a money market account, jointly owned with his wife, former Labor Secretary Elaine Chao, worth between $5,000,001 and $25,000,000.
Eric Cantor of Virginia, the Republican whip in the House, has an extensive investment portfolio including a money market fund in Goldman Sachs valued at $100,001-$250,000.
Congressional salaries are modest compared to what some politicians might make in the private sector. Pelosi earned $223,500 as Speaker — supplemented by $102,000 in book royalties — while the House and Senate majority and minority leaders got $193,400. Rank-and-file lawmakers received $174,000. Congress, fearing the wrath of constituents, did not give itself a raise in 2010.
Pelosi donated her net income from the book royalties, including $50,000 to St. Anthony Foundation in San Francisco and $10,000 to Trinity Washington University in D.C., her alma mater.
The financial disclosures offer only a snapshot of the outside incomes of lawmakers: Assets and income are estimated within a wide range and the financial affairs of spouses are not included.
Much of Pelosi's family wealth is listed to her husband, including a commercial property in San Francisco worth $5 million to $25 million and common stock in Apple Inc. and Visa Inc, worth $1 million to $5 million each. Paul Pelosi also reported $1 million to $5 million in capital gains from selling Apple stock.
Other congressional leaders, while not in Pelosi's class, are also doing just fine.
House Majority Leader Steny Hoyer, D-Md., has a Legg Mason Value Trust Fund valued at $250,001 to $500,000. House Democratic Whip James Clyburn of South Carolina has an investment in the $100,001-$250,000 range and received a $52,000 pension from his days as a South Carolina state official.
Lawmakers dabbling in the stock market sometimes don't choose any better than the rest of us. Boehner lists an investment in now defunct Bear Stearns valued at $15,000-$50,000. Cantor had small investments in two companies whose stock suffered huge declines: Fannie Mae and General Motors.
Not all lawmakers are rich: After more than half a century in the Senate, 92-year-old Senate pro tempore Robert Byrd, D-W.Va., lists only two significant assets, an IRA worth $100,000-$250,000 and rental property in Shepherdstown, W.Va., valued at $250,001-$500,000
Congressional ethics rules bar members from receiving expensive gifts or profiting from speaking engagements, but they can still take fact-finding trips paid for by interest groups. A Hoyer trip to Israel was paid for by the American Israel Education Foundation. Clyburn was reimbursed for eight domestic trips last year, including one to San Antonio paid for by the pharmaceutical industry's lobbying organization.
Online:
Searchable House financial disclosure reports:
tinyurl.com/ybezy7j
Filed under:
Corporate
,
Corporate News
,
Finance
,
Financial Services
,
Government
,
Industries
Tags:
California
,
Corporate Governance
,
Government Regulations
,
Industry Regulation
,
John Kerry
,
North America
,
Oil spill
,
San Francisco
,
United States
,
Washington