British prime minister works to deepen economic, political ties while on trip to India
By Ravi Nessman, AP
Thursday, July 29, 2010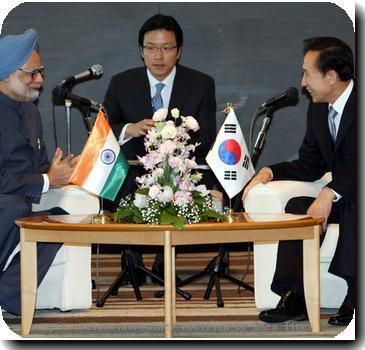 more images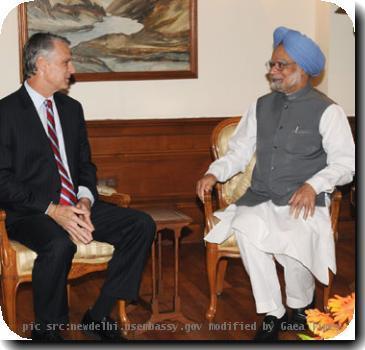 more images
British PM works to deepen Indian economic ties
NEW DELHI — British Prime Minister David Cameron worked to deepen his nation's ties with India on Thursday, using his trip to the former colony turned rising regional power to rake in millions of dollars in new business for the struggling British economy.
Cameron was expected to cap his three-day visit to India in talks with Indian Prime Minister Manmohan Singh on how to strengthen political, security and cultural ties between the two nations.
The men also were expected to discuss British efforts to stem Indian immigration, the future of the conflict in nearby Afghanistan and reducing trade barriers for British companies seeking to do business with India.
Cameron, who was holding a hectic day of meetings with top political and business leaders, has made it clear that the main reason he came to India along with a vast delegation of Cabinet ministers and business leaders was to harness India's burgeoning economy to aid Britain's sluggish recovery from recession.
Britain is desperate to make up lost economic ground in the country. Britain was the 5th largest exporter to India in 2005, but has since fallen to 18th. Exports to India dropped from 4.12 billion pounds ($6.4 billion) in 2008 to 2.9 billion ($4.5 billion) in 2009.
On Thursday, the British government announced a series of deals between India and British architectural, high-tech and defense firms. That followed an announcement in Bangalore on Wednesday that India would buy 57 Hawk advanced trainer jets from Britain in a deal worth nearly $1.1 billion.
Britain is trying to increase its military trade with India, which traditionally buys most of its weaponry from Israel, the United States and Russia.
In Mumbai, Treasury chief George Osborne encouraged Indian regulators to allow British banks to open more branches.
Also Wednesday, Business Secretary Vince Cable announced that Britain would allow the export of its civil nuclear technology to India, mirroring an earlier agreement the United States made with India. The decision was expected to help British firms compete for business in India's civilian nuclear industry.
In addition to business ties, Cameron also was focusing on climate change and increased security cooperation between the nations, both of which have been targeted by terrorist attacks. He also expressed support for India having a permanent seat on the U.N. Security Council.
Cameron also tried to move past a row he created when he appeared to accuse Pakistan of aiding terror groups. He said Thursday he was only speaking his mind and did not intend to damage relations with Islamabad.
"I think it's important to speak frankly and clearly about these issues. I have always done that in the past and will do so in the future," he said.
On Wednesday, Cameron said Britain wanted a strong, democratic Pakistan, "but we cannot tolerate in any sense the idea that this country is allowed to look both ways and is able, in any way, to promote the export of terror, whether to India, whether to Afghanistan or to anywhere else in the world."
Pakistan reacted angrily, saying the statement undermined the importance of its role in the fight against terrorism.
"These comments are an immature reaction from an immature politician," Wajid Shamsul Hasan, Pakistan's ambassador to Britain, told The Associated Press. "On the one hand, Cameron says he wants Pakistan to have a strong democracy that will survive and prosper, but this kind of statement is only going to fuel extremists."
While Cameron's trip to India may have appeared laden with irony, as a former colonial power sought deeper ties with its one-time colony, few here saw it that way. Powerful Indians now take it as a given that their country is a major player in the global economy.
India is "the obvious stopping place for a British prime minister whose economy is in a slack position at the moment, to try and cash in on whatever business opportunities he can get," said Kamal Mitra Chenoy, a professor of international studies at New Delhi's Jawaharlal Nehru University.
While Cameron took pains to show deference to India, there was a limit.
He appeared taken aback when he was asked in an interview Wednesday evening whether Britain would return the 106-carat Koh-i-noor diamond, which had been mined in India and was passed among Indian and central Asian rulers for centuries before being given to Queen Victoria in 1849. It is now part of the Crown Jewels in London.
"If you say yes to one (request) you suddenly find the British Museum would be empty," Cameron told NDTV. "I think I'm afraid to say, to disappoint all your viewers, I'm afraid it's going to have to stay put."
Associated Press Writer Paisley Dodds in London contributed to this report.