In Chicago, Obama wraps up tour of Big 3 automakers with visit to Ford, continues fundraising
By Darlene Superville, AP
Thursday, August 5, 2010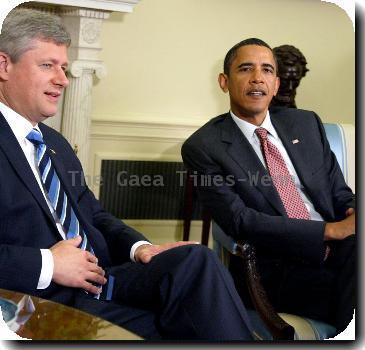 more images
Obama boasts saving auto industry 'on the brink'
CHICAGO — President Barack Obama is crediting his politically risky bailout of the the U.S car companies with turning around an "industry on the brink."
Speaking at a Ford plant that is adding 1,200 jobs and a second shift, Obama says that while others criticized his $60 billion bailout over a year ago, he chose that course because of his faith in American workers. While Ford did not accept federal funds, Obama argued that the company did benefit from a resurgence in the industry following the bailout of General Motors and Chrysler.
Following his stop at the Ford plant, Obama will head to three political fundraising events.
THIS IS A BREAKING NEWS UPDATE. Check back soon for further information. AP's earlier story is below.
CHICAGO (AP) — With a Ford Motor Co. assembly plant as the setting, President Barack Obama is arguing anew that his politically risky decision to bail out the auto industry saved it from collapse.
But most of the president's time in his hometown of Chicago Thursday will be spent raising some of the millions of dollars that Democrats need as they campaign to keep control of both houses of Congress in the fall elections.
Obama's tour of the Ford plant follows visits last week to General Motors and Chrysler facilities in Detroit, where he defended his administration's unpopular $60 billion bailout of those two companies. He argued that it helped save jobs and turn around an industry that was on the precipice of failure a year ago.
Ford, which did not accept federal bailout money, is adding 1,200 jobs and a second shift at the Chicago plant. The White House says that's possible in part because of $400 million in new Energy Department loan guarantees for companies that redesign their plants to make more fuel-efficient vehicles.
By the end of the year, the plant, which once made the company's Taurus, will begin cranking out a redesigned, energy-efficient 2011 Explorer SUV that the company hopes to sell in more than 90 countries.
Obama also planned to touch on the auto industry's role in boosting U.S. exports. The president has set a goal of doubling U.S. exports over the next five years.
Toward that end, the Export-Import Bank was announcing Thursday a loan guarantee for Ford that will finance $3.1 billion in export sales for more than 200,000 vehicles being sold in Canada and Mexico.
While eager to frame the auto industry rebound as a success story Democrats can take to voters, most of Obama's time in the Windy City was being spent chasing the cold, hard cash candidates need to fund their campaigns.
The president was headlining two events for the Democratic Party, at the Chicago Cultural Center and at a private home. Taken together, the two events were expected to raise about $1.5 million for the party. Obama also was stumping for Alexi Giannoulias, the Democrat seeking the Senate seat Obama held before becoming president.
While Obama has accelerated his fundraising pace, Giannoulias is the only single candidate he is campaigning for in the eight fundraising events he was scheduled to attend over a two-week span, underscoring the huge embarrassment it would be for Democrats to loose the seat in November.
Obama had made personal appearances for only a handful of Democratic candidates this year, including Senate Majority Leader Harry Reid, California Sen. Barbara Boxer, and Missouri Senate candidate Robin Carnahan.
Giannoulias, the Illinois state treasurer, is trailing Republican Rep. Mark Kirk in the race for campaign cash, and has been embroiled in a controversy following the failure of his family's bank in Chicago. Regulators closed Broadway Bank this year after it failed to raise new capital. Giannoulias was an executive at the bank before he was elected to state office in 2006, and Kirk has used the bank's failure to raise questions about Giannoulias' fitness to be a senator.
Kirk has had his share of problems, too. The Naval Reserve officer recently acknowledged puffing up his military record, including claiming a prestigious award he never received. He also claimed to have served in the first Gulf War when he did not. Kirk has said he was "careless" in describing his military service and background.
Pairing an official event such as the Ford plant visit with political appearances allows the White House to bill taxpayers rather than the Democratic Party or individual candidates for most of the president's travel costs.
Filed under:
Consumer
,
Corporate
,
Corporate News
,
Economic Policy
,
Economy
,
Finance
,
Government
,
Industries
Tags:
Barack Obama
,
Campaigns
,
Chicago
,
Illinois
,
International Trade
,
North America
,
Personnel
,
Political Fundraising
,
United States
,
Us-obama