Ratan Tata's Successor Search
By Arnab Ghosh, Gaea News Network
Thursday, August 5, 2010
more images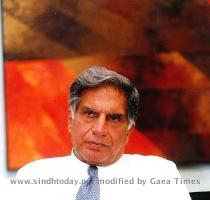 more images
NEW DELHI, INDIA (GaeaTimes.com)- The latest buzz in the Indian business circle is the successor search to the chairman of Tata group Ratan Tata. The largest conglomerate of India said that the next chairman will be selected by a panel comprising of 5 members. The group is involved in making a variety of products ranging from salt to steel and cars. The chairman of the group Ratan Tata is now 72 years old and he wants to transfer his responsibilities to a worthy successor. He will take retirement in December 2012, as it has been reported. The news has created a sensation in the industry and the media entities are speculating who would be chosen as his successor.
There will be an external consultant in the 5 member panel that will choose the successor to Ratan Tata. The Tata group has indicated the successor could be an Indian national. However, the majority of the business revenue of the group comes from abroad in recent times and so an expatriate might be chosen for the position. The industry buzz is that the young corporate honchos like Arun Sarin, the ex-boss of Vodafone PLC and Pepsi CEO Indra Nooyi might be approached for the post. The group may chose an Indian who has decades of working experience abroad.
Ratan Tata has been at the helm of affairs in the Tata Group and industries since 1991. In his tenure, he has played a vital role in expanding the business in foreign markets. In particular, Tata Motors has made inroads into foreign markets under his leadership and has also acquired some leading foreign brands.