Chevrolet Volt On Its Way
By Arnab Ghosh, Gaea News Network
Wednesday, October 13, 2010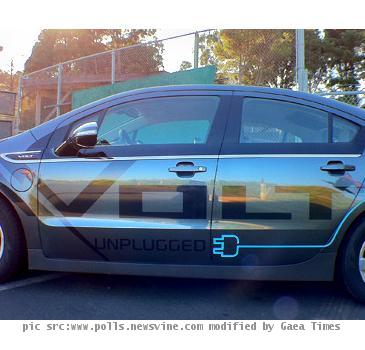 more images
DETROIT (GaeaTimes.com)- General Motors one of the topmost car makers in the USA said in a recent statement that it is going to start the production of the Chevrolet Volt in November this year. The news has been confirmed by Tom Stephens the Vice Chairman of Global Operations of GM. The top car brands are stressing on eco friendly cars and vehicles that run on green energies and GM is in no mood to be left behind. The Volt has some spectacular features that will ensure that it will sweep the buyers off their feet. It boasts of features like keyless ignition and keyless entry. The car has also got 5 star safety standard and power windows. The engine can shift between generator and battery power smoothly. For the music buffs there is a 30 GB hard disk and USB port in the car.
GM has setup over 100 charging stations for the car. The Volt locks horn with the Nissan Leaf which is said to be the car with least carbon footprint. The Leaf incidentally costs less than the Chevy Volt. The Leaf as claimed by Nissan does not need gas to run and is the first zero emission car in the market. The Chevrolet Volt on the other hand runs on Electricity for a maximum of 25 to 50 miles and once the battery is exhausted by 70 percent the engine shifts to gas mode. However, to make the car acceptable to the mass a lot of charging stations need to be made all over USA.
The Chevrolet Volt is one of the most promising vehicles coming from its stable according to GM. It may make green cars more popular in the USA if the company can strike the balance between price and performance.