Twitter Raises $200 Million in Concluded Funding
By Shaon, Gaea News Network
Wednesday, December 15, 2010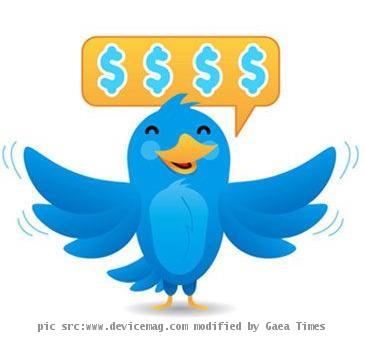 more images
The popular Microblogging website Twitter has finally closed the last round of funding. It is reported that it managed to secure an astronomical $200 million at a valuation of $3.7 billion. Twitter has confirmed a "Significant new round of Funding" was done on its official blog. This takes up the tally of Twitter's funding to an estimated $360 million. In the last round of funding in September 209, the site closed a $100 million in fundings.
This finding confirms that Twitter is officially a force to be reckoned with and can be placed along side the other big players like Google and Facebook. Twitter was formerly a quick growing platform without any perceivable business model but since the last round the microblogging site has worked hard on generating a number of revenue streams. Promoted tweets and trends figures pretty high up on that list. The company changed its CEO Evan Williams and brought in the former COO Dick Costolo in October. The official sources confirmed that twitter had 300 employees on payroll.
The deal is significant in the light of the fact that the venture capital firm KPCB, the lead investor is also renouned for its investment on the Facebook led sFfund. The company has also funded the iFund. KPCB beat DST Global to the twitter deal.