Eric Schmidt Steps Down
By Arnab Ghosh, Gaea News Network
Friday, January 21, 2011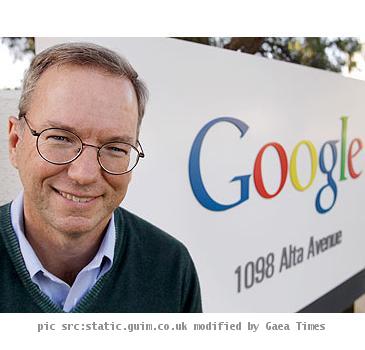 more images
MOUNTAIN VALLEY (GaeaTimes.com)- Internet search giant Google has announced a major reshuffle in the top portfolio of the company and its CEO Eric Schmidt is going to step down from his post. He is going to be succeeded by Larry Page said the California based company. The outgoing CEO had been a part of the company's rapid growth in the sphere of web technology and it was in his tenure that Google made foray into new domains liker smart phone and cloud computing. The outgoing CEO admitted in the official blog that this move was being mulled by the top management of Google for quite some time. However, he will not stay away from Google after stepping down as its CEO. He will function as its executive chairman. The announcement was deliberately planned after announcing the latest quarter results of the company to avoid any effect on stocks.
The industry analysts say that there are reasons behind Eric Schmidt stepping down as Google CEO. With time the operations of the company are growing into various directions and the outgoing CEO also admitted that it was growing complex. The shift is being seen as a move to simplify things at the top level of the company. Besides, Google is embroiled in some long running problems that need to be resolved.
Google officially said that the stepping down of Eric Schmidt is necessary to "streamline decision-making and create clearer lines of responsibility and accountability at the top of the company." After the change in leadership Google will chalk out its strategies to tackle the Facebook threat and a way to promote Android in a better way.