Yet again, Schilling's business and bluster bleed over into New England politics
By Jimmy Golen, AP
Thursday, July 29, 2010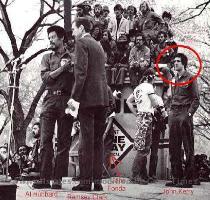 more images
Schilling's business, bluster bleed into politics
BOSTON — The U.S. is fighting two wars, and millions are looking for work. So what is making politicians thump their lecterns in two of New England's hottest political races this summer?
Former Red Sox pitcher Curt Schilling.
The ballplayer-turned-businessman is back in his favorite spot — the center of attention — after his startup video game company was offered a sweetheart deal to leave Massachusetts for Rhode Island.
As Republicans rail against government handouts in an era of belt-tightening, all five Rhode Island gubernatorial candidates expressed reservations about the deal. One of them even dredged up the now-discredited notion that Schilling faked the bloody sock that became his signature baseball moment.
"I don't know if I trust Curt Schilling," former Sen. Lincoln Chafee said in an interview Tuesday on WPRO-AM. "I just remember his own teammates didn't like him. They thought he was a bit of a salesman."
A three-time World Series champion with a pitching resume that might get him into the Baseball Hall of Fame, Schilling is known as much for the things he says and the way he says them — brash and confident, often with an apology to follow — as for his accomplishments on the diamond.
He has endorsed political candidates and even toyed with running for office himself, but he has never been as enmeshed in a race as when the Rhode Island Economic Development Corporation offered his company a $75 million loan guarantee to move to the state. Officials with 38 Studios, which is scheduled to release its first product in fall 2011, promised to create about 450 jobs — with an average salary of $67,500 — by the end of 2012.
"I need you to know I've invested a significant amount of my life's earnings in 38 Studios," Schilling, who did not respond to a request to be interviewed for this article, said at a news conference after the state approved the deal. "I will protect the loan guarantee that's been given by the state with the same passion and interest that I'm protecting my own investment in this company. Our paths are very much aligned."
Rhode Island politicians panned the deal — led by the candidates for governor — questioning whether the state should be staking so much on a single company, and an unproven one at that. Moderate Party candidate Ken Block called it "a silver-bullet approach to economic development."
"It doesn't work," he said. "We can't afford it."
Massachusetts Treasurer Timothy Cahill, who's running for governor, said that his neighboring state made a "bad decision" and that Massachusetts "would not have done what Rhode Island did." (Of course, he was careful to praise Schilling's pitching, lest he offend the Red Sox fans in the electorate.)
Chafee went farther — too far — when he raised doubts about the bloody sock, a talisman of the 2004 World Series victory that ended an 86-year championship drought for the Red Sox.
With an ankle injury that would otherwise have kept him from pitching, Schilling asked team doctor Bill Morgan to stitch a flapping tendon in place so he could make his start in Game 6 of the AL playoffs. They repeated the procedure five days later in the World Series — with another bloody sock, and another Red Sox victory.
The performances gave birth to a stubborn urban legend that Schilling stained the sock with ketchup or paint to call attention to himself. He has denied it, Morgan has vouched for him, and the Hall of Fame, which has the sock in its collection, has said there is no reason to doubt the stain is blood.
"It was blood, my blood, and it was coming from the sutures in my ankle," Schilling said in 2007. "You're either stupid or bitter if you think otherwise."
Schilling's former teammates also stand by him, though some have also acknowledged that the story has legs in part because Schilling, well, seems like the kind of guy who would do something like that.
There's no doubt about this: Where Schilling goes, controversy usually follows.
Or this: He seems to revel in it.
Schilling's success on the field is undisputed, with a 216-146 lifetime record in 20 years with five teams and a .846 playoff winning percentage that is among the best in baseball history.
But it is his tendency to venture into off-field issues that made him one of the most polarizing athletes of his time.
He was a vocal critic of steroid users in baseball, earning him an invitation to a congressional hearing. When called to testify, he said: "The issue was grossly overstated by people, including myself."
He also said that Barry Bonds, accused of using steroids, "admitted to cheating on his wife, cheating on his taxes and cheating on the game." Schilling later apologized.
The morning after Boston's cathartic World Series victory — a week before the 2004 presidential election between George W. Bush and home-state senator John Kerry — Schilling appeared on "Good Morning America" and signed off by saying, "Make sure you tell everybody to vote, and vote Bush next week."
In 2008, he backed Republican John McCain (after suggesting — somewhat implausibly, considering Schilling's stated positions — that he thought about endorsing Barack Obama).
When Sen. Edward M. Kennedy died, Schilling publicly vacillated over whether to run for the seat, publishing his potential position paper on his blog under the headline "What I Believe." He decided instead to support Republican state Sen. Scott Brown against overwhelming favorite Martha Coakley, the Democratic attorney general in a heavily Democratic state.
Coakley dismissed the endorsement as coming from, of all things, a Yankees fan. Schilling said the gaffe showed she was out of touch with the state's voters.
"I've been called a lot of things," Schilling responded, "but never, I mean never, could anyone make the mistake of calling me a Yankee fan."
And no one's ever called him bashful, either.
Associated Press writer Eric Tucker in Providence, R.I., contributed to this report.
Filed under:
Corporate
,
Corporate News
,
Economy
,
Government
Tags:
Boston
,
Doping
,
John Kerry
,
Massachusetts
,
North America
,
Political Endorsements
,
Products And Services
,
Professional Baseball
,
Rhode Island
,
United States