As leaders talk peace, Palestinian militants launch mortars and Israeli jets drop bombs
By Robert Burns, AP
Wednesday, September 15, 2010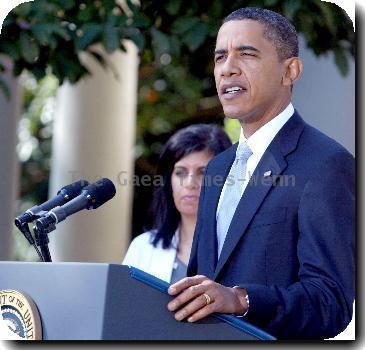 more images
Talking Mideast peace as mortar shells, bombs fall
JERUSALEM — Underscoring Mideast perils, Palestinian militants and Israeli forces attacked each other with mortar shells and fighter strikes Wednesday, even as U.S. Secretary of State Hillary Rodham Clinton sat down with the two sides' leaders in an effort to forge a peace deal in delicate face-to-face talks.
Clinton said the agreement was "both necessary and possible" to heal generations of division in the region. But shortly before she began the talks with Israeli Prime Minister Benjamin Netanyahu and Palestinian President Mahmoud Abbas, militants launched mortar shells into Israel and Israeli jets bombed targets in Gaza.
Netanyahu appeared briefly before cameras and reporters to shake hands with Clinton and Abbas on a stone patio at his official Jerusalem residence. The group then began what was scheduled to be their final negotiating session before Clinton departs on Thursday, ending their second round of talks.
The new fighting highlighted the fragility of the talks. And there was no sign the two sides were any closer to resolving another imminent threat to an agreement, a looming crisis over Israeli housing construction in West Bank settlements.
Asked about progress, the Israeli leader said, "We're working on it, thank you. 'Working' is right — it's a lot of work."
Neither Abbas nor Clinton spoke during the brief appearance.
Clinton and others predicted at the start of the current Israel-Palestinian talks in Washington two weeks ago that opponents of peace would try to snuff out the negotiations.
Gaza militants opposed to peace with Israel have threatened to derail the negotiations, and the Israeli military said eight mortars and one rocket hit Israel by mid-afternoon — the highest daily total since March 2009. There were no injuries.
Israeli warplanes responded by bombing a smuggling tunnel along the Gaza-Egypt border, the military said. Hamas officials said one person was killed and four wounded.
In earlier remarks to reporters, Clinton said she is convinced that both sides are serious about finding compromises.
"This is the time and these are the leaders," she said.
"We are convinced that the legitimate aspirations of these two peoples are not incompatible," Clinton added. "We are also convinced that peace is both necessary and possible, and that this is the moment of opportunity that must be seized."
Abbas has threatened to walk out of the talks if Israel resumes construction in the settlements after a 10-month slowdown expires at the end of the month. Clinton and President Barack Obama have called on Netanyahu to extend the slowdown.
Netanyahu has signaled he is looking for a compromise. Earlier this week, he said the current curbs won't remain in place after the end of this month, though he will continue to restrict building activity to some extent.
Achieving at least a tacit understanding on West Bank settlements that allows the peace talks to continue would be a substantial boost for the Obama administration, which has made an agreement between Israel and the Palestinians a foreign policy priority.
But it would be only a first step on one track toward what Obama hopes will eventually produce a comprehensive peace for the region — an Israeli accommodation not just with the Palestinians but also with Syria and Lebanon.
Jordan and Egypt, which already have peace treaties with Israel, are co-sponsors of this week's peace talks. Egyptian President Hosni Mubarak hosted Tuesday's negotiations in Sharm el-Sheik, and Clinton is going to Amman on Thursday to consult with Jordan's King Abdullah.
Mitchell is scheduled to visit Syria and Lebanon later this week in search of a broader Mideast peace, although there is no apparent movement toward direct negotiations between Israel and either Syria or Lebanon.
The U.S. view is that even tentative steps toward such talks would bolster the Israeli-Palestinian negotiations by raising hopes for success.
The Palestinians oppose the West Bank settlements because they are located on land wanted for their future state. Some 300,000 Israelis live scattered among the West Bank's 2.5 million Palestinians. An additional 200,000 Israelis live in east Jerusalem, the section of the holy city the Palestinians claim as their capital.
Negotiators also face a series of issues that have undermined talks in the past: the location of the border between Israel and a future Palestinian state, the fate of Palestinian refugees and the competing claims to Jerusalem.
But they will have a hard time addressing those disputes if they cannot resolve the disagreement on the settlement slowdown.
Private U.S. analysts are split on the prospects for success.
Martin Indyk, a former U.S. ambassador to Israel and now director of the foreign policy program at the Brookings Institution, told The Associated Press that he was cautiously optimistic. The test, he said, will come in two weeks when Netanyahu is due to decided whether to extend the partial moratorium on settlement construction.
"I have reason to be hopeful," Indyk said, pointing out that Netanyahu has publicly called Abbas his partner and has said that the Palestinians need sovereignty — "which is very new and critical to a deal."
Jim Phillips, Middle East specialist at the Heritage Foundation, took a pessimistic stance. He focused his concern on Iran and Hamas, the militant Palestinian group that controls Gaza.
"It is politically incorrect to say so, but I believe there can be no genuine peace so long as Hamas remains a spoiler backed by Iran," Phillips said.
Under intense international pressure, Netanyahu declared curbs on West Bank settlement construction last November, seeking to draw the Palestinians back to the negotiating table. At the time the Palestinians dismissed the move as insignificant, an irony Clinton pointed out ahead of Tuesday's talks in Egypt.
"Now we're told that negotiations cannot continue unless something that was viewed as being inadequate continues," she said.
The slowdown is set to expire on Sept. 26, and Netanyahu is being pressed by many of his religious and nationalist allies in Israel's coalition government to resume construction. Members of his own Likud Party have taken out ads in Israeli dailies in recent days demanding an end to the slowdown.
Associated Press writers Matti Friedman and Josef Federman in Jerusalem and Barry Schweid in Washington contributed to this report.
Filed under:
Government
,
Industrial Products and Services
,
Industries
Tags:
Africa
,
Barack Obama
,
Egypt
,
Foreign Policy
,
Gaza Strip
,
International Agreements
,
Israel
,
Jerusalem
,
Lebanon
,
Middle East
,
Mideast-talks
,
Militant Groups
,
North Africa
,
North America
,
Palestinian Territories
,
Syria
,
Territorial Disputes
,
United States
,
West Bank